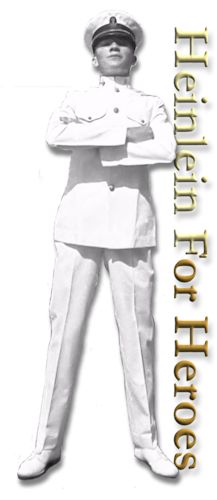 Since our launch at LoneStarCon August 29, 2013 donations are starting to flood in, books and cash for books, to go to our troops and veterans! But we need more. We started with a legacy gift of $1000. Since then we've received:
Oct. 8th – The Heinlein Prize Trust, Robert A. Heinlein's main literary estate has offered to donate 2050 Heinlein books to H4H!

HARDBACK BOOKS:
Glory Road  – 500
Time for the Stars – 400
Variable Star – 400

LARGE FORMAT PAPERBACK BOOKS:
Requiem – 750

Total: 2,050 books

The Heinlein Prize Trust also offered to design and print H4H bookplates to go in each donated book.

Oct. 5th – A Heinlein Society member in Minnesota scoured a large Twin Cities book sale, acquiring about 50 Heinlein and other Golden Age paperbacks and hardcovers as a donation to H4H.

Oct. 4th – Heinlein Society members in Bellingham, Washington have gathered nearly 100 Heinlein and other Golden Age books to donate, and sent out an appeal to the local science fiction community to contribute.

Sept 30th – $300 from Buzzy® 4 Shots, the "Doing It Right" company founded by Amy Baxter, the Heinlein's adopted granddaughter (read Amy's story on the Heinlein Society site here.

Sept. 29th – The head of a major metro charity book sale offered to get all the Heinleins he could for us at the pre-public sale, at the bargain price of $.50 per copy, a win for his charity, and for H4H.

Sept. 28th – A complete Virginia Edition set was donated, valued at $1500.

Sept. 26th – We began working to get thousands of quality paperbacks at a bargain price, and help a struggling independent bookstore in the process.

Sept. 16th – $100 tribute gift.

Sept. 5th – $100 from a Society member.
Join our growing list of supporters. Contribute through the PayPal link above. 100% of your donation is tax deductible. All money raised goes directly to the Heinlein For Heroes program, to purchase books and pay for shipping costs. No one involved in H4H is paid in any way other than with the joyful knowledge that we've helped PAY IT FORWARD!