Virtual Blood Drives
As Cons sponsoring Heinlein Society Blood Drives are being cancelled In response to the Covid-19 situation, The Heinlein Society will run virtual blood drives where disappointed con donors can donate locally and give credit to the Con and The Heinlein Society.
If you want to participate schedule a donation with a local blood center or blood drive. After donating send a selfie with your I donated today sticker, and some sort of Con ID, Sharpie tag OK, to . Alternatively for anonymous credit a pic of the Coach or Center will suffice with a donation tag and con in the pic.
In any case include the type of donation (Whole Blood, Double or Power Red, or other) with your name (Con Name OK) and USPS address so we can send you a pinned thank you card and ribbon.
We will post selfie thumbnails on a virtual blood drive page under the appropriate con on the Heinlein Society Web Page.
Heinlein society members who wish to participate have their own section of the wall if they don't wish to credit a virtual con drive.
New Blood Drive Chair –
Carlin Black has coordinated many Pay it Forward drives at Wondercon, Kublacon, Pantheacon, and Celesticon, and San Jose Comicon all in the SF area. He is available and experienced at setting up, planning, and coordinating blood drives anywhere in the country. New coordinators and volunteers at existing drives are always appreciated. These days all you need to know about giving blood to coordinate a blood drive is that it is good to Pay it Forward. Help for everything else will be provided.
Please contact Carlin at for help with planning your blood drive or starting a new one.
Many of the deferral rules are changing, or have changed, which help many convention attendees qualify as donors that used to have an excuse at the table. Tattoos, piercings, some medications, and MSM rules have been modified. Please email with any questions.
---
2019 Results
With Dragoncon again leading the pack with 3,223 donations of all types society blood drives have exceeded 40,000 donations since 2001. Arisia, Wondercon and Worldcon lead the smaller convention drives. But they all count even the startups. Let us know how we can help you with your THS drive!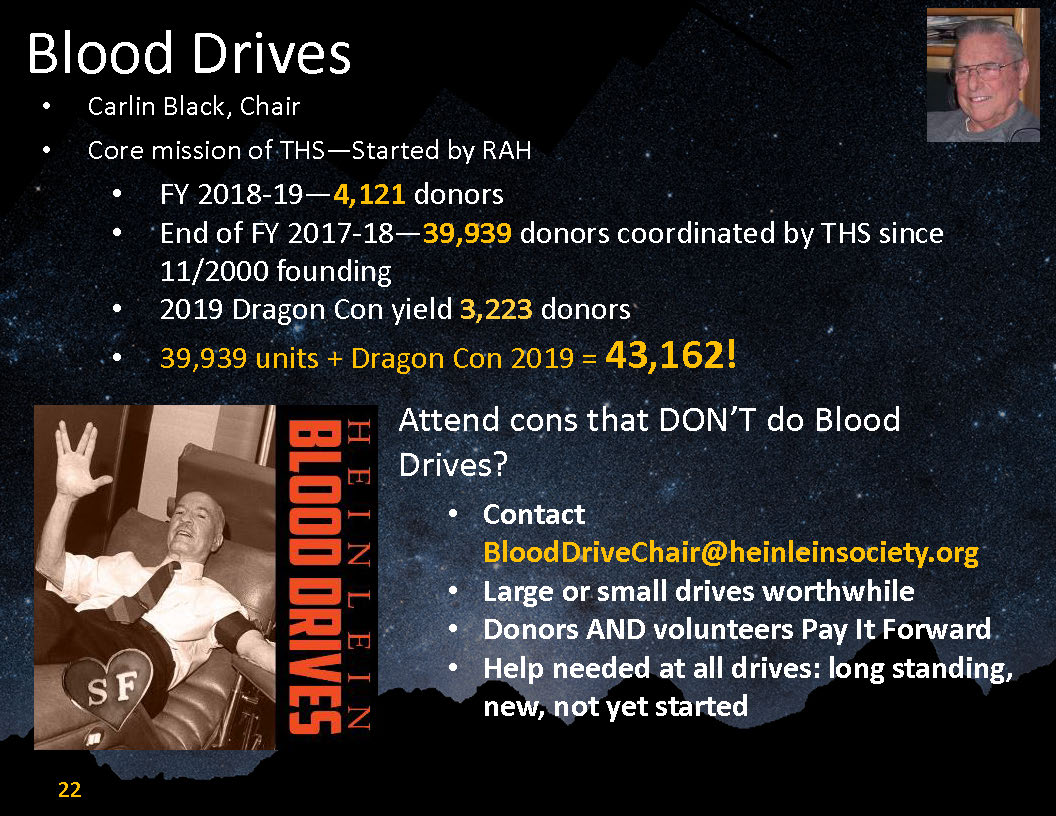 Reports on past blood drives welcome! Many thanks to the many volunteers who make this life saving service possible to so many first time donors as well as lifelong repeat donor who donate nowhere else than our drives.
---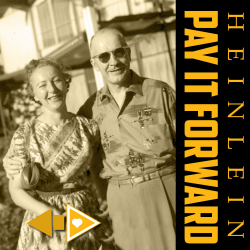 Giving blood only takes about an hour; anyone 16 and up, and in good health, can give blood. For more information on the requirements to be a donor, visit the United Blood Services website. Heinlein readers will recall the National Rare Blood Club was an integral part of his novel I Will Fear No Evil and, in an appendix to the novel, he informed his readers that the organization he had written about actually existed and deserved their support. Mr. Heinlein traveled extensively to promote this important cause and frequently donated himself.The Heinlein Society has made blood drives a permanent, ongoing effort, and continues to invite all to participate in this critically important effort. Life-saving blood is always in short supply, and a healthy person may donate every 56 days. According to the Red Cross, each blood donation can save up to three lives. It is a safe and quick procedure, usually taking no more than an hour of one's time.While walk-ins are welcome, we'd appreciate as many as possible to pre-register.To sign up to give blood at a Heinlein Society blood drive, or to volunteer to help, email: . Thank you for paying it forward!
---
About Science Fiction Convention Blood Drives
In 1976, only a few years after recovery from two years of extensive illnesses that prevented his final editing "cuts" of I Will Fear No Evil, Robert Heinlein put his own words into action. With the help of other science fiction devotees, including many well-known authors, he organized a blood drive at MidAmericon, the 34th World Science Fiction Convention. It was the first of many such blood drives and was the start of a tradition.Many local organizations have followed that worthy tradition and hold their own drives in memory of Robert A. Heinlein at local conventions. On Labor Day weekend in 2001 at the Millenium Philcon, the Heinlein Society took up the tradition by organizing our first convention blood drive. Despite being several blocks from the convention center we had an excellent turnout and collected over 60 units of blood. It was a tremendous success.
Since that time we have run dozens of convention blood drives—including most of the subsequent Worldcons—and assisted with a number of others, with many more to come. Our goal is to have a blood drive at every convention large enough to support one. Where there is no local organization, we will set the blood drive up. Where there is a local organization willing and able to organize the drive themselves, and there are many, we will offer our help.