The Heinleins' Adopted Granddaughter Invents Medical Product
 "When your hero adopts you at age 12, there's little that seems out of reach." —Amy Baxter, M.D.
Amy Baxter, the Heinleins' adopted granddaughter, is gaining renown as the inventor of a medical device called Buzzy®.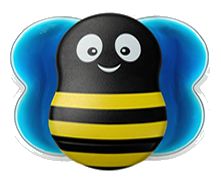 The Buzzy is designed to take the pain from injections, making it easier and less stressful for children, and adults, to get shots. Amy developed Buzzy for one of her own children, to lessen injection fear and pain. As a pediatrician herself, she approached the development of Buzzy from the perspective of both a mother and a doctor.
"As a pain researcher, I became interested in this issue when my son developed needle phobia after a horrendous set of shots at age 4. He showed no signs of getting over the fear, and it dawned on me that if nothing was done, as an adult he would leave my home a healthcare avoidant." Her inspiration for the Buzzy came from two unrelated, but simple, moments. First, Amy realized if we hurt or bang our hand, we tend to shake it, creating vibration in the injured limb. Then, if burned, running cold water over the injury decreases the pain. Coupling these, she created the prototype Buzzy with an ice pack and vibrator. It worked. Placed "upstream" from the place the injection is to take place, Buzzy's combination of cold and vibration successfully eliminates pain in as many as 97% of those who use it.
The Buzzy® website describes how Buzzy works this way:
Gate theory, like running a burn under cold water.
Descending inhibitory controls, If you put your hand in a cooler to get an icy drink, your brain tries to dampen sensations everywhere, so your pain threshold goes up;  you're less sensitive to pain.
Distraction, when you pay attention to other sensations, curiosity overcomes anxiety and your brain allocates less attention to pain
Being a doctor, pain researcher, and long-time Heinleiner, Amy did things the right way in the right order. Rather than rushing to market with a cute product, a research grant was acquired which let her properly test the device and document results. With research to back her findings about Buzzy's effectiveness, Baxter and her team began to design the device into a product that would appeal to children.
The surprise, Amy says, is how many others are using Buzzy, and applying it for uses she had not considered. "Possibly the best thing, though, is hearing about people using Buzzy in ways I never dreamed of.  Shingles, laser hair removal, diabetes, arthritis shots, dialysis, fertility shots, splinters, clogged milk ducts, and even tickling a baby's tummy to keep it from trying to roll off the changing table," Amy says.
Amy Baxter and Buzzy, have been featured on several television programs, received awards, and are gaining ever more publicity. Just recently the Wall Street Journal gave Buzzy first billing in a story about big ideas in an article on innovation and creativity. Buzzy is the 2011 winner of the Medical Design Excellence Award. And the list is growing:
buzzy4shots.com/About-Us/websites.html
So, who is Amy Baxter, of whom I write with such familiarity, and describe as the Heinleins' Adopted Granddaughter?
Amy and her husband Louis Calderon are old friends and fellow Heinlein fans. My husband, Geo Rule, and I (Deb Houdek Rule) met them through the Heinlein Society in 2003, the year Ginny Heinlein passed away. Amy, with her keen sense of empathy and beautiful, sharing soul, recognized me right away as a kindred spirit where the Heinleins were concerned.
At the Heinlein Society dinner in Toronto, Amy nudged me and asked if I'd like to wear Robert Heinlein's Annapolis class ring and Ginny Heinlein's wedding ring for a while. Would I?! Amy handed both to me and I wore them for the remainder of the dinner. In 2005, at WorldCon in Seattle, Amy brought Ginny Heinlein's emerald necklace and ring—given to Ginny by Robert—with her specifically so I could wear them to the Heinlein Society dinner.
That sort of thoughtfulness and consideration is a hallmark of Amy and is one reason the Buzzy product she invented is perfectly suited to her. It's not just a business or a device, but is something that makes things better and happier for others.
 Tale of the Adopted Granddaughter
This is a tale Amy has only begun sharing recently, and she tells part of the story here for the first time. Here is Amy Baxter's story of becoming and being the Heinleins' Granddaughter:
The board came away from the tree, and time slowed down. As I fell backwards in space, still clutching the tree-house rung, I had no idea the broken ribs that followed would be one of the best things that ever happened to me.

Recuperating from the various injuries wasn't as bad as it could have been, since the age of 2 I had been a voracious reader. The one caveat was the now complete dependence on my dad to bring me books, rather than the freedom to hunt and gather at the local library. One day, instead of the usual library stack, he brought me a single bookstore-bought (!) copy of Have Space — Suit Will Travel. "Read this," he said. "That's the stupidest title for a book ever. Where are my Three Investigators books?" "You'll get them when you finish this." Tough love indeed. Protests were useless, so I read my first Heinlein. Then another. Then several others, and I hatched my plot to write the Best Fan Letter Ever. I read the essay "Inside Intourist" in Expanded Universe, and gleaned that "Gospodin Heinlein and I have no children…," so logically I assumed they also had no grandchildren. Bingo! I wrote and asked the Heinleins if they would like a granddaughter.

I found out from Granma years later that the Heinleins had gone to Sweden with the intent of adopting a child. They got there, and as she described it, "chickened out."  Shortly thereafter my missive arrived, so my timing was excellent. He put my picture above his printer, and that was sort of that. Every summer from 1980 until he died in '88, I was supposed to go visit, but each summer he came down with some horrible life threatening illness; aneurysm, peritonitis, etc. They sent me new editions autographed "Granpa Heinlein," and I spoke once or twice to him on the phone, but as with most fans my correspondence was primarily with Granma.

Granma was happy when I transferred from Dartmouth to Yale, happy that I entered medical school, and spontaneously arranged for me to transfer to UCSF when I was dating a Berkeley man. Over the years our relationship became quite as sound as any grandmother/granddaughter relationship, with the added overlay of me being her concierge physician. She disliked all doctors but me, she said, and resisted getting medical care unless I was there or approved by phone.

With 2 1/2 small children, life got a bit more complicated. In January of 2003 we went to visit her and introduce her to #3, her namesake redhead Jill Baxter Heinlein Calderon. She had grown more disillusioned with her retirement community life, and on that trip she decided to purchase the house next to us in Virginia so we could outfit it for her. She planned to move over the summer, but passed away the following Saturday morning.
There are few better examples of the concept of Pay It Forward working so well and beautifully in all directions, past, present, and future. Robert and Ginny Heinlein would be justifiably proud of their adopted granddaughter and the work she is doing.
---
You can read some of Amy's correspondence with her adopted grandparents, the Heinleins, in the online Heinlein Archives, provided by the Heinlein Prize Trust. Main correspondence files are at these locations:
http://www.heinleinarchives.net/upload/index.php?_a=viewProd&productId=1088
http://www.heinleinarchives.net/upload/index.php?_a=viewProd&productId=1064
http://www.heinleinarchives.net/upload/index.php?_a=viewProd&productId=974

Article by Amy Baxter about the first Heinlein Prize® awarded to Peter Diamandis:
http://www.heinleinprize.com/2010/12/first-heinlein-prize-award-ceremony/
Article about the Heinlein Prize Trust Have Space Suit — Will Travel program visiting Amy's children's school:
http://www.heinleinprize.com/2012/05/hssw-paideia/
A piece Amy Baxter wrote as a tribute to the Heinleins is the concluding chapter in the Requiem volume of the Virginia Edition of the Complete Works of Robert A. Heinlein.
---
Visit the Buzzy® website for more information, and to order a Buzzy® of your own.
 Amy's bio from the Buzzy website:
Dr. Amy Baxter is Chief Executive Officer of MMJ Labs and inventor of Buzzy® and Bee-Stractors™. After graduating from Yale University and Emory Medical School, she completed Pediatrics Residency and a Child Abuse Fellowship at Cincinnati Children's, and Pediatric Emergency Medicine training at Children's Hospital of The King's Daughters in Virginia. When she's not thinking of new ways to use Buzzy®, Dr. Baxter is director of Emergency Research for Pediatric Emergency Medicine Associates at Children's Healthcare of Atlanta, Scottish Rite, and a Clinical Associate Professor at Georgia Health Sciences University.
As a founding board member of the Society for Pediatric Sedation, Dr. Baxter lectures nationally and internationally and publishes on pain and procedural sedation. Dr. Baxter is on the Pediatrics Board for Medscape; she is currently NIH funded to research immunization needle pain relief in children. She invented Buzzy after experiencing first-hand the indifference of the healthcare system to children's pain and suffering. Buzzy grew from a desire to put inexpensive pain control in the hands of parents and patients. Although Dr. Baxter enjoys conducting research and business meetings over IPAs, she looks forward to gardening, cooking Thai food, attending more science fiction conventions, and hanging out with her incredibly tolerant husband and three children again.