Kansas City, July 6-7-8, 2007…
That Was a Helluva Party, Wasn't It!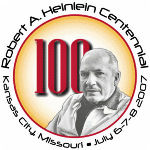 The weekend of July 6, 7 and 8, 2007 was a busy one in Kansas City. The Heinlein Centennial rocked the Westin Crown Center with programming, keynote addresses, entertainment, academic conferences and a Saturday night bash – the 07/07/07 Gala – that will not soon be forgotten.
Bringing together, for the first time, Heinlein's myriad worlds of influence – fandom, literary studies, government and commercial spaceflight and entertainment – created something whose components have always been around us but never had a focal point. That focus was found in Kansas City, and connections were forged between these worlds that will have lasting effects.