Wednesday, February 29, 2012 the Science Channel program Prophets of Science Fiction will run its episode focusing on Heinlein.
In August of 2011, the producers of the Discovery Science Channel's series Prophets of Science Fiction contacted The Heinlein Society with a request for help for their episode on Robert A. Heinlein. The script was completed by that time, but the producers wanted photographs and possible subjects for interviews. The Society eagerly responded, contacting the Heinlein Prize Trust (who allowed access to the online Heinlein Archives), offering the services of the Archivists and Society Directors Deb Houdek Rule and Geo Rule, and helping to set up contacts for Society personages to be interviewed for the episode, such as official Heinlein Biographer William H. Patterson, Director Jerry Pournelle, and Dr. Robert James.
Robert James describes the interview:
In September, 2011, the producers of "The Prophets of Science Fiction" contacted me as a possible interviewee for their episode on Robert Heinlein.  Originally, they had contacted Bill Patterson, but his sudden health problems prevented his initial acceptance of their request. Bill very kindly recommended me, and I gratefully accepted.
I then spent several weeks making appointments, only to see them delayed repeatedly for a variety of production issues.
Thanks to those delays, however, Bill's health recovered well enough to be able to attend — and the producers were very happy to get two for one!
In October, the interviewer and camera crew came to my school, Cathedral College Preparatory, where we were able to use the Melvin Henderson Rubio conference center, with its fabulous views of downtown Los Angeles, thanks to the gracious offer of my principal, Br. John Montgomery.
They arrived in the late morning; they did not leave for seven hours. In advance, they had provided us with an extensive and exhaustive list of questions for us to prepare answers. Bill and I discussed appropriate responses, and split up the topics — only to find the interviewer had already decided to split up the topics a different way. We were able to negotiate (somewhat) back to what we prepared.
The interviewer was very good, and knew her business.
Bill went first — I always insist on age before beauty — and he was absolutely brilliant. I even learned some things, as Bill more cogently placed Heinlein in the Enlightenment and Freethinker tradition better than he ever has before.
Bill's answers were fluid, and fascinating.
Mine were not. I don't really remember. I'm sure seeing myself on camera, I will be surprised at what I said. Bill says I did fine, but all I can remember is thinking I would have had much better answers with an audience of 500 and no camera on me.
They did pause a number of times to allow for the necessary technical issues, as well as to let us consult each other, and the notes I had taken in preparation (which included a number of suggestions from the Heinlein group on Facebook, who had helped me brainstorm).
When we were done, the production team fed us some fine Chinese food from Plum Tree Inn, including their signature Honey Walnut Shrimp. They cleaned up, and I drove Bill home. Both of us are very curious as to what they will end up using, as neither of us has seen any of the footage in advance. We know they also interviewed Jerry Pournelle; we were not told of other interviewees, although I suspect there were more.
I am looking forward to the episode, although having seen others, I suspect we will not be getting a very clear picture of the importance of the fiction, but rather a discussion of the technology in the fiction. Hopefully, the series will be a success, and we will see more historical looks at the importance of science fiction.
Robert James, Ph.D.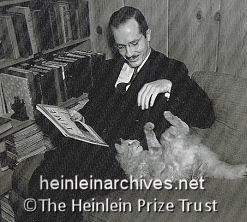 The producers contacted Heinlein Society directors Deb Houdek Rule and Geo Rule, in their role as archivists and administrators of the Online Heinlein Archives, for high resolution images from the Archives. With the permission of Art Dula, Trustee of The Heinlein Prize Trust, the program was provided with twenty-nine photographs, some of which have never been seen by the public before as they were part of the Heinleins' private photo collections.
The range of photos provided covered Heinlein's Navy years, visits with friend and fellow author Arthur C. Clarke, the span of his writing career with photos showing Heinlein at work in his office over the course of his life, and some personal views, many showing Heinlein with various cats who inspired the many feline characters in his stories.
Though the exact focus and content of the final program is unknown to us at this point, the list of questions asked of Robert James and Bill Patterson show a good understanding of Heinlein as a person and as a writer.
We're pleased the Science Channel is airing this program exploring Robert Heinlein's lasting legacy. We hope you'll watch the program!