The Heinlein Society presents…
Heinlein's Universe:
The Robert A. Heinlein Archive Exhibit
(on display April 1 – June 12, 2004)
A Photo Tour
guided by William H. Patterson, Jr.
plus a tour of the Heinlein Archive
Part 1
This is copyrighted material and may not be copied or reproduced in any form, including on other websites, without permission of the copyright holder.
Introduction and Captions by William H. Patterson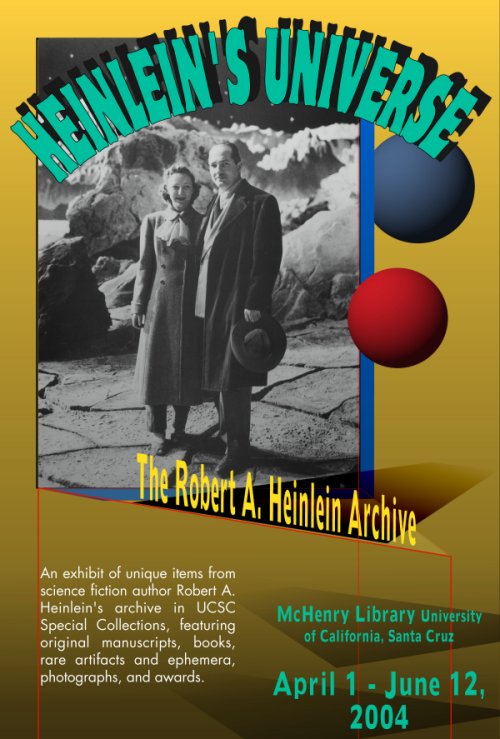 McHenry Library at U.C. Santa Cruz regularly runs displays on its ground floor entranceway, usually of interesting material held in the University Library's collections. After Easter 2004, the Friends of the Library asked Special Collections to put together an exhibit of materials from the Heinlein Archive.
Mrs. Bunting, the new Head of Special Collections (and also Head of the University Library's Collections) asked me to help Liz Sandoval and Wendy McMullen put together the display.
The exhibit ran from April 1 through June 12, 2004.
They had a special poster made up to introduce the exhibit, using the 1949 portrait of Robert and Ginny Heinlein on the set of DESTINATION MOON.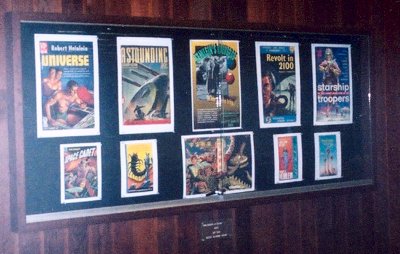 The entryway.
The librarians seemed fascinated by the 1950's paperback covers and had dozens of blown-up color reproductions done.
Close-ups of entryway book covers.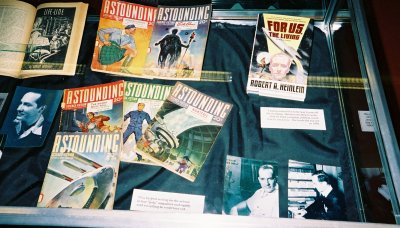 And the writing begins.  1938-1941.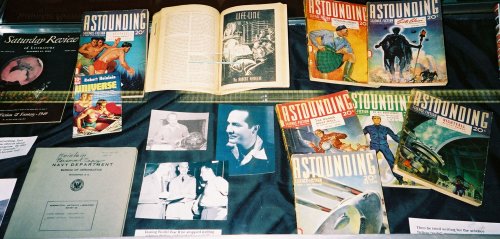 1939 to 1949. The old Astounding covers gives great color and interest to the displays.
And Destination Moon has its own set-up, completely with lobby card and the Cafe Margo demi-poster of Robert and Virginia on the set of Destination Moon.  Oh, and the Retro-Hugo, too!
Go to Part 2 of Heinlein's Universe:The Robert A. Heinlein Archive Exhibit