The Heinlein Society presents…
Heinlein's Universe:
The Robert A. Heinlein Archive Exhibit
(on display April 1 – June 12, 2004)
A Photo Tour
guided by William H. Patterson, Jr.
plus a photo tour of the Heinlein Archive
Part 2
This is copyrighted material and may not be copied or reproduced in any form, including on other websites, without permission of the copyright holder.
Introduction and Captions by William H. Patterson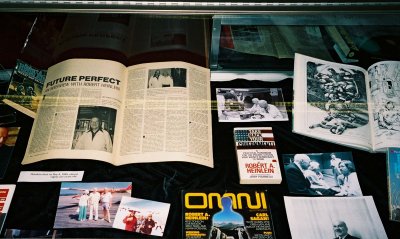 Continuing from the 1970's into the 1980's.
Go to Part 3 of Heinlein's Universe: The Robert A. Heinlein Archive Exhibit.