Saturday, April 26, 2003, at about 5:30PM PDT, Ginny Heinlein's ashes joined Robert's in the Pacific Ocean. Following is an account of that day graciously provided by her friend James R. Cunningham.
–Deb Houdek Rule
(webmaster of this site)
Virginia "Ginny" Heinlein
(Virginia Doris Gerstenfeld)
April 22, 1916 – January 18, 2003

Deb has asked me to say a few words about returning Ginny to Robert, which has left me mulling where to start. So I'll start in San Diego on the 26th, that lovely Saturday afternoon with Lela (my wife) and me at the Aerospace Museum at Balboa Park, where we saw the Piper Cub, lost our camera, found our camera, and did other things of lesser note.
About 3 pm Amy Baxter, her husband Louis Calderon, and their daughter Jill picked us up at the park, and we and the sushi (courtesy of the U.S. Navy) and Ginny drove down to Shelter Point Marina, to the fountain in front of the Shelter Pointe Hotel where we were to meet Bill Whalen, pilot of our charter (see sandiegoboats.com for a map and additional info).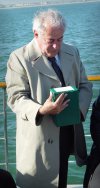 David Silver, Victor Koman, Laurie MacDonald, and Neil Shulman were there already and pretty soon we were joined by Ralph Vicinanza. Ginny and Jill were sharing Jill's stroller. Then Bill Patterson, Brad Linaweaver, and Robert James arrived, and Jerry and Roberta Pournelle and their niece. And Bill and John Heywood, husband and son of Ginny's dear deceased friend Laura Heywood, keepers of Snowy (Ginny's cat). There may have been a couple of others, most welcome all, but by that time my mind had blanked out from new folks overload. If I've left out any of your names guys, please forgive me and be sure to take the opportunity to do the same to me next time you get a chance. Bill Whalen had arrived too, and with Louis toting Jill while Amy carried Ginny, he led us all down to the dock where we boarded and soon spread about the boat. I carried Ginny for a while, then Bill Patterson, and then others.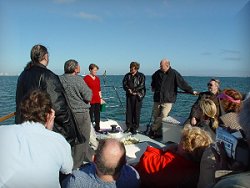 We didn't waste any time getting started on the wine and the sushi and were soon on our way out of the harbor and toward the Pacific. We shared a few 75's along the way. Not far into the Pacific though. We rounded the breakwater into the open ocean and stopped near there, backing into the wind to hold stationary as we gathered on the bow. We each held Ginny and said our personal goodbye to her, and then with a gull hovering overhead, Amy kneeled at the front of the boat leaning low as she opened the container, returning Ginny to Robert. I helped a bit near the end, though I'm not sure that Amy needed the help. I just didn't want her to fall overboard And I know that Ginny didn't — she herself was well on her way on a lovely day.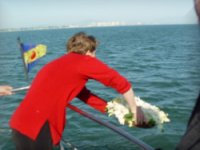 David Silver had brought a floating wreath for Amy to toss into the water and then we turned away, as did the gull. Ginny had her Robert back and no longer needed our help. There were numerous sea lions sunning themselves as we reentered the harbor, a sight that Ginny would have enjoyed.
After docking, some had to leave immediately and others of us convoyed over to a restaurant in the Old Town. Brad Linaweaver brought out the Brass Cannon for us, and a good time was had by all, though we didn't fire it, much to my disappointment and the delight of the local police. By then it was very late and most had to go, but David, Laurie, Amy and Louis and Jill, Bill and John, and Lela and I stayed on for a very late supper. Bill and John took Laurie back to her car, David rode back to the Shelter Pointe Hotel with all the rest of us, and then Louis and Amy dropped Lela and me back off at our motel for a bit of a rest before our flight back to the mid-south on Sunday.
Ginny will be missed by all, but I think she is doing OK for herself, traveling in elephants.
I'd like to pass along a special request for any of you authors who might read this. If Hazel Stone were to show up in a short tip o' the hat cameo in any of your stories, Ginny would be pleased and touched, and I would too.
Goodbye Ginny,
Jim Cunningham