The Heinlein Society presents…
More of…
A Guided Tour of the Heinlein Archive
guided by William H. Patterson, Jr.
This is copyrighted material and may not be copied or reproduced in any form, including on other websites, without permission of the copyright holder.
Introduction and Captions by William H. Patterson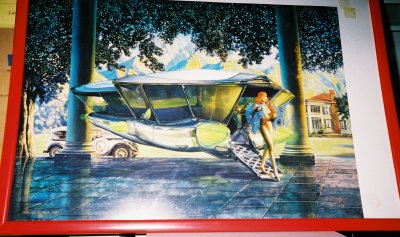 Several pictures were found hanging on a wall in the manuscript room.  This one seems to be an artists conception of Gay Deceiver from The Number of the Beast, though the [artist]-esque background suggests it might be an illustration of something from Time Enough for Love or possibly one of the World As Myth books.  The artist's signature is unfortunately indecipherable.
 You can see photos of these pictures hung in their dining room at Bonny Doon. here.
See also A Visit to the Santa Cruz Library.          Return to part 1.