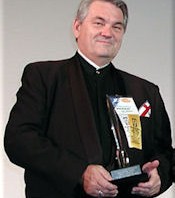 The Heinlein world was shocked when RAH's biographer, William H. Patterson, Jr., passed away suddenly on April 21, 2014, just as the second volume of his epic biography of RAH was about to be published. We here at THS were more than shocked. Bill was not just a colleague in the Heinlein legacy vineyards, but a personal friend as well. He was the Founding President of the Society, and even after he became too busy to do that, in later years he was our Academic Chair, a position he still held at the time of his passing.
His role in the Heinlein world can never be replaced, and yet the responsibility of his friends and colleagues is to do our best to carry on his proud legacy of Heinlein scholarship. To that end, we contacted his family after his passing and inquired if it would be possible to receive his Heinlein-related research materials and papers, and to receive permission to continue to distribute existing issues of The Heinlein Journal (21 issues published, with another two issues partially completed at the time of his passing) and continue publication of future issues.
The aftermath of a loss is a complicated thing, as many of us have had to deal with in our own families, and the wheels of the law grind slowly. Recently we were informed by Bill's family that probate on his estate was complete, and that they were willing to donate Bill's Heinlein-related papers to THS, and grant us permission to continue to distribute and produce THJ. The Society will also be receiving the domains whpattersonjr.com and https://www.heinleinsociety.org/heinlein-journal from Deb Houdek Rule, who had maintained them on Bill's behalf.
Now, we here at the Society will begin to ramp up. To that end, we have named Marie Guthrie, Ph.D. as our new Academic Chair. Dr. Guthrie completed the first known academic dissertation on Heinlein's works, was a personal friend of Ginny's, and Bill's, and many of us in the Heinlein legacy world. She's an excellent choice to lead the effort to make sense of what we've received from Bill's estate and formulate a plan to lead THJ forward. Society directors John Seltzer and Geo Rule will also serve on the initial committee with her. Robert James, Ph.D., who was Associate Editor of THJ has been consulted as well, and will continue to contribute as his many projects allow him time to do so.
A small historical curiosity has arisen –amongst Bill's papers are two packages with notes they were to be delivered to "Pires, NM". We presume NM is New Mexico, but no one we've consulted knows who Pires is. If anyone reading this does, please contact us at