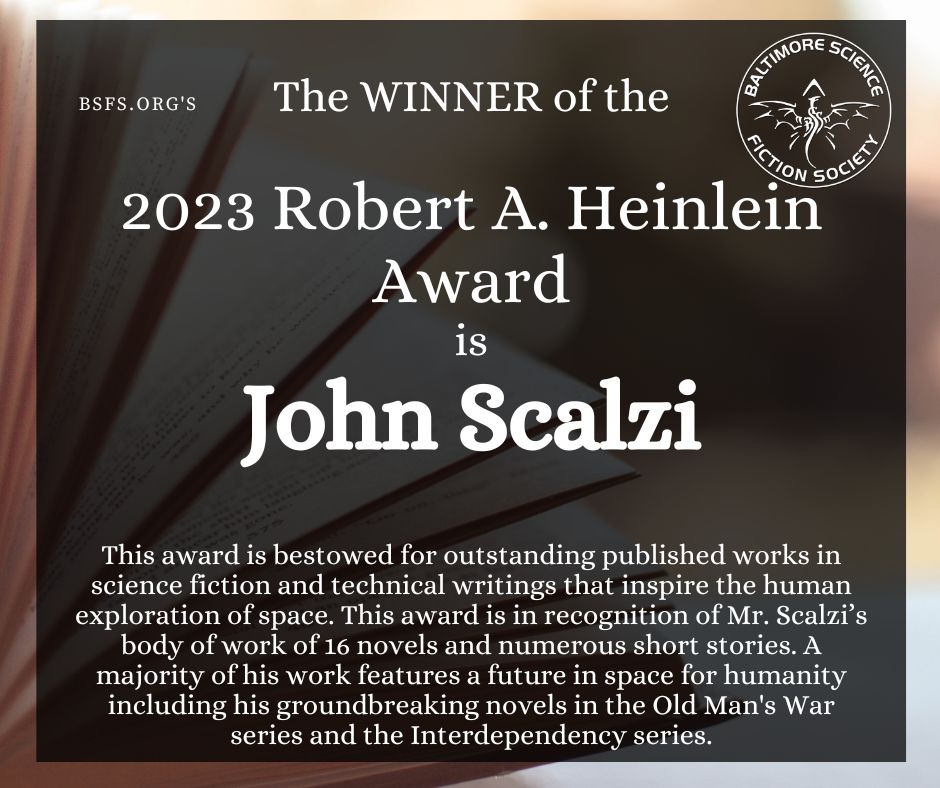 John Scalzi, novelist and internet personality, is the 2023 winner of the Robert A. Heinlein Award. The award is bestowed for outstanding published works in science fiction and technical writings that inspire the human exploration of space. This award is in recognition of Mr. Scalzi's body of work of 16 novels and numerous short stories. A majority of his work features a future in space for humanity including his groundbreaking novels in the Old Man's War series and the Interdependency series.
The award will be formally presented during opening ceremonies on Friday, May 26, 2023, 8:00 PM, for Balticon 57, the 57th Maryland Regional Science Fiction Convention. Balticon will take place at the Renaissance Baltimore Harborplace Hotel in Baltimore Maryland. Mr. Scalzi will participate in the Balticon program across Memorial Day Weekend.
Balticon and the Robert A. Heinlein Award are both managed and sponsored by The Baltimore Science Fiction Society, Inc. BSFS thanks The Heinlein Society and the family of Dr. Yoji Kondo for providing funding for this award.
The Robert A. Heinlein Award is a sterling silver medallion bearing the image of Robert A. Heinlein, as depicted by artist Arlin Robins. The medallion is matched with a red-white-blue lanyard. In addition, the winner receives two lapel pins for use when a large medallion is impractical, and a plaque describing the award for home or office wall display.
John Scalzi lives in Bradford, Ohio, USA.