By Caroline Seals and Keith Kato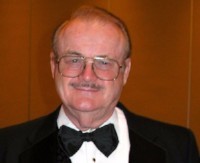 With deep sadness we report that science fiction icon and Director on The Heinlein Society's Board of Directors, Dr. Jerry Pournelle, passed away Friday, 8 September 2017, during a mid-afternoon nap. He and Larry Niven had just returned from DragonCon in Atlanta, GA, and in his final blog entry (www.jerrypournelle.com/chaosmanor/ ) he complained of cold and flu symptoms, attributing it to "con crud." Jerry had served continuously on THS's Board from 2005-2017, and had won re-election in our 2017 elections (by the highest vote total of any candidate) for another three year term before he passed. Despite his multiple professional commitments and obligations, he maintained his presence with the Society because, "I promised Ginny I would." With the passing of SF Grandmaster Frederik Pohl in 2013, Jerry was one of Robert Heinlein's last remaining long-term friends.
Jeremiah Eugene "Jerry" Pournelle was the epitome of the Heinlein Competent Man. Born in Shreveport, LA on 7 August 1933, Jerry served as an artilleryman with the Army in Korea, and earned three Masters degrees (history, experimental statistics, systems engineering) and two Ph.D.s (psychology, political science). Jerry's wife Roberta once joked she kept being asked at family gatherings "Is Jerry still in school?". His multiple careers showed "Specialization is for insects." He was Director of the Human Performance Lab at Boeing in Seattle that chose the Mercury astronauts; political campaign research director to Los Angeles Mayor Sam Yorty; Deputy Mayor of Los Angeles; professor at Pepperdine University; science fiction writer on his own and in collaboration with Larry Niven, Steven Barnes, Michael Flynn, and others; columnist for Byte Magazine; columnist for Galaxy Science Fiction ("A Step Farther Out"); President of Science Fiction Writers of America, 1973-74; founding president of the Pepperdine Research Institute; and author of many articles on military tactics and war gaming (some of them used as textbooks at the United States Military Academy, Air Force Academy, Air War College, and Naval War College). He is also recognized as the first author to write a novel entirely on a computer.
Jerry's service to The Heinlein Society was monumental. His final contribution to THS was a monetary donation that ensured all members would receive their new membership cards—only one small example of his generosity of spirit.
Jerry's family held a Graveside Service on Friday, 15 September 2017 at the Forest Lawn Memorial Park in Hollywood Hills (6300 Forest Lawn Drive, Los Angeles CA 90068, in the "Comforting Light" section, lot 2072), for family and close friends, and a Memorial Mass at noon Saturday, 16 September 2017, at St. Francis De Sales Catholic Church in Sherman Oaks CA. The Pournelle family has requested, in lieu of flowers or memorials, that donations be made to the SFWA Emergency Medical Fund. The Heinlein Society has made a $250 donation in memory of Dr. Jerry Pournelle, as have several Directors and Chairs of our committees as individuals.
In this month's Newsletter, you will find an article on the Board's disposition of Jerry's vacant seat, to which he had recently won re-election.
JERRY STORIES
By Keith Kato
I am startled to say I knew Jerry for 42 years, since the Los Angeles NASFiC in 1975, at (of course) at my first big Chili Party. In my Chili Party history article (up to 2009) in File 770 (http://file770.com/wp-content/uploads/2011/04/File_770_159_pages_35-44.pdf ) my friends and I sought out "the one guy who knows significantly something about nearly everything" to help us tap a beer keg—Jerry.
At that 1975 party, Jerry opined I should run a Worldcon (I wasn't bidding for anything), and he returned several times throughout the night. The last time was about 5:00 AM.
At the 1976 Worldcon, MidAmeriCon in Kansas City, there was a panel of SF luminaries offering their testimonials on RAH. Jerry's story was about "This woman he lives with." Jerry was apparently either visiting or staying with the Heinleins at their Colorado Springs, CO home, when they tried to drive someplace, and found the car tires frozen to the garage floor. As "these two engineers" wondered what to do, Ginny came out with a kettle of hot water and poured it over the tires, freeing them.
At my 1978 party at the Phoenix Worldcon, Jerry brought the entire Worldcon contingent from Norway to my party because he thought I'd be interested in meeting them. I think somewhere in Jerry's genealogy, Vikings are there.
At that same 1978 party, Jerry cracked a joke that remains on the ribbons I hand out to this day: "Kato's Natural Gas Company."
Jerry was President of the Science Fiction Writers of America from 1973-74. In 1973 he won the inaugural John W. Campbell Award for Best New Writer.
When the Niven-Pournelle collaboration first formed, the late, great SF artist Bill Rotsler made special name badges for them: "Not Jerry Niven" and "Not Larry Pournelle."
Jerry's family includes wife Roberta, daughter Dr. Jennifer (research professor in archeology and anthropology at University of South Carolina—leave it to Jerry to sire a female Indiana Jones), and sons (in birth order) Alex, Frank, Phillip, and Richard. Note that Jerry's son's names are alphabetical by birth order. I counted four grandchildren at his Memorial Mass.
Roberta Pournelle was a teacher at L.A. Juvenile Hall. She developed a reading program that (I think) is still available.
The Pournelle family kept a series of Siberian Huskies.
Jerry's service in Korea left him with hearing loss. That was part of the reason he spoke so loudly. However, Jerry and Roberta were long-time subscribers to Los Angeles Opera.
Jerry's service in Korea also left him with an injury that required his use of a cane for a while. In the Heinlein's suite at the 1977 Worldcon in Miami, Poul Anderson told the story of Jerry (fake-) weakly fending off a mugger by waving the cane. The mugger grabbed the end of the cane, whereupon Jerry yanked back to reveal a sword blade. IIRC Jerry was a varsity fencer in college. Sword canes are also "slightly" illegal.
Once at Larry Niven's house I introduced Jerry to my date, who did not read SF. Being a courtly southern gentleman, he kissed her hand anyway.
In Jerry's Galaxy column, "A Step Farther Out," Jerry repeatedly returned to the theme that the problems affecting humanity could be solved by utilizing space. "Surviving With Style" is what he called it. He wanted to make everyone rich by mining the asteroids to obtain enough consumer metals such that everyone consumed what Americans circa 1950 did, while moving mining and processing off the planet. Solar powered satellites were also in his purview. Conversely, his great worry was that eventually problems on earth would swamp every attempt to get to outer space, and doom our species.
Jerry was a political conservative, and not shy about it. He joked he was actually "An eleventh century liberal."
One of Jerry's political science students is a member of the U.S. House of Representatives—Dana Rohrabacher of CA. Tim Kyger, who was Chairman of the 2007 Heinlein Centennial, worked on Congressman Rohrabacher's staff, primarily for space-related legislation.
The breadth of famous people he knew was astounding. One of his agents was also Arnold Schwarzenegger's, so he knew the "Governator" socially.
He met Ronald Reagan before Reagan was Governor of CA. Jerry said Reagan challenged him "I've read more books than you have, Professor." They compared lists and Jerry (who was competitive as hell) admits Reagan beat him in that regard.
Of course he knew not only all the Mercury astronauts, but also knew the candidates who did not make the cut. Jerry once told a funny story about turning John Glenn upside down and shaking him over a smoky fire, while fake-arguing with the staff, and dropping manhole covers on the floor. Glenn kept a dot in a circle, and his heartbeat remained rock steady (except for one momentary blip when the manhole covers landed), after which Glenn glaringly said "You son of a [redacted for the delicacy of our readers' um…eyes?]!"
The Pournelle home was in Studio City CA, and was called "Chaos Manor." Jerry reported running into Castle's Nathan Fillion every so often when walking around, and ran into actress Molly Quinn (Castle's daughter) at the local post office, and asked "Are you who I think you are?" He was also neighbors with the actor Ed Begley, Jr.
Jerry was diagnosed with a brain tumor in 2008 (he seemed to be in pain even at the 2006 Los Angeles Worldcon), which he beat with lots of radiation therapy. He lacked energy in the aftermath, but he noted the same kind of tumor killed Robert Forward. Jerry also suffered a stroke before Christmas 2014, but was back working by mid-2015. Despite his physical impairment, Larry Niven said Jerry's brain was "still all there."
Jerry's last Worldcon was in 2016 in Kansas City. He said Ginny Heinlein had asked him to be their "Executive Officer" in 1976 in Kansas City. Then (as now) the lack of social graces was apparent; Jerry said some fans were so rude, they dropped books onto RAH's dinner plate to be signed. In 2016, the Niven-Pournelle contingent made it to that year's Chili Party, and Jerry heartily ate at least two bowls. One of the "Jerry Wranglers," Los Angeles fan Michelle Pincus, told me of their operational strategy of pre-positioning his walker at stair landings, so that he could take stairs, albeit slowly.
The last time I saw Jerry was at the 2016 Loscon, again at my party. He seemed physically frail, but still worked his way around on his walker. Steve Barnes was talking to me when Jerry came in, and Steve's face had this expression of sadness. "The Lion In Winter" came to my mind. But Jerry being Jerry, the description that came to me as he worked his way around as determined as ever, was "manliness." You recall in Starman Jones the grave marker for Sam: "He ate what was set before him." So, too, with my friend Jerry Pournelle.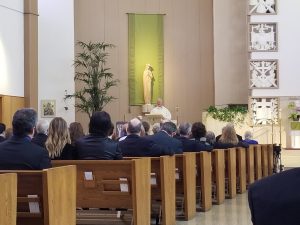 Jerry's Memorial Mass. The presiding priest gave a funny narrative of Jerry's life, and each of his five children gave some eulogy, as did one of his four grandchildren. Before he started, the priest asked by show of hands how many in the congregation were SF writers, and I'd guess about one-fourth raised their hands. He asked how many were interested in SF, and somewhere between half and two-thirds raised their hands. From my vantage point (I was in the back—see the photo), I saw authors Karen Anderson, Steve Barnes, Greg Benford, Michael Cassutt, Larry Niven, and Tim Powers, Larry's wife Marilyn, agent Ashley Grayson, and local L.A. fans John Hertz, Michelle Pincus, and Matthew Tepper. Stuff I did not know about Jerry: He was an only child, and was often left alone because his parents eked out a hard-scrabble life during the Depression. He enlisted in the Army at age 16, which was both fictitious and a tad illegal. He met Roberta at the University of Washington, not (as the priest humorously put it) at the library or classroom, but at the local student bar. The priest recounted (to much laughter) that Jerry was instantly smitten, but Roberta initially was not. While Jerry was an only child, Roberta was the youngest of 12, so he was almost immediately part of a large extended family. Jerry was quietly generous with both time and money, not only to his SF colleagues, but to his church, Los Angeles Opera, and battered women's shelters. As I write this, over 1,100 posting have been made as "Well Wishers" on Jerry's website. After the Mass, Steve Barnes told me the final Niven-Pournelle-Barnes collaboration was very nearly completed.