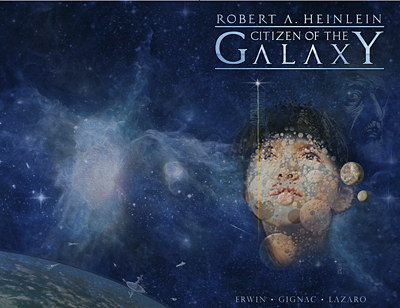 The Heinlein Society: Have Space Suit – Will Travel is the second graphic novel you've adapted from Robert A. Heinlein's works. Did you even take a breather after Citizen of the Galaxy, or did you just plunge right in to the next project?
Eric Gignac: We took a bit of a break, but we also released several other printings of the COTG graphic novel after the Kickstarter edition was released including three single issue comics distributed by IDW, digital versions through Comixology, and a softcover trade paperback published late last year. During that time we also continued to brainstorm the future titles that we would like to do and ways to set up our idea of a Heinlein shared universe that loosely ties all the juvenile novels together.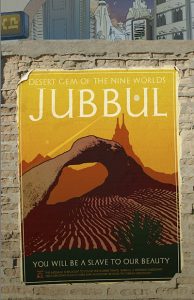 THS: In your perfect world, how many of RAH's works would you adapt to comic form? Is there a wish list?
Eric: Yes, as part of our Heinlein juvenile novels shared universe concept, we would love to do all 12 of the Scribner novels. We realize that there are no cross-over characters or events between these books, but just creating a visual universe where all these characters lived and events occurred seems like a fascinating idea to us. This does not mean we would create non-cannon, fan-fiction-like stories where Kip and Thorby fight slavers across the galaxy. Instead we hope that dropping non-intrusive easter eggs or insider references here and there that Heinlein aficionado can pick up, will entice readers to pick up the other books as well.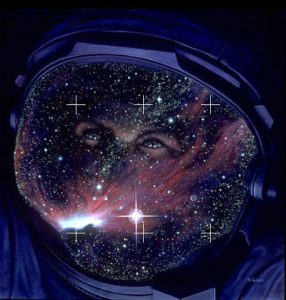 THS: Is this the same team for Have Space Suit – Will Travel as worked on Citizen of the Galaxy?
Eric: The response to this second Kickstarter campaign is yields enough support we'd love to bring is new and additional talent (artists and adapters) to tackle this and other stories we hope to get permission to adapt. (A surprise we hope to announce at the conclusion of the Kickstarter campaign! ; )) This will hopefully help us produce more new graphic novel content in a shorter time frame. In talking with many comic industry talents, and we are talking some big names here, there are many Heinlein fans in the industry who would love the opportunity to tackle one of these classic works. Currently we are working with former NASA concept artist Pat Rawlings about some possible cover paintings for HSSWT.
THS: Have you all developed a special "working on a Heinlein story" working relationship?
Eric: Absolutely, we believe our team to be a great blend of comic industry talent and experience held together by the glue of our love of the genre, source material, and writer.
THS: How is the Kickstarter going? Do you have new rewards to tell us about?
Eric: It's funny — at the time we were going over this question we just received the notice that we've just exceeded our goal. Our plan now is to use the remaining days of the campaign to try to raise additional funds through "Stretch Goals" to potentially fund additional graphic novel adaptations in the near future. Our primary goal remains to get more Heinlein content out for new and younger readers to discover as well as for lifelong Heinlein fans to enjoy.
THS: Do you have any success stories about CotG bringing RAH to the younger generations?
Eric: We have traveled to numerous science fiction, comic and other fandom conventions around the country promoting the first graphic novel adaptation. Unfortunately, we were met with many blank stares when we were promoting the first project as too many of today's youth were not familiar with Heinlein and his works. However, just a few weeks into promoting the second novel we are already seeing greater recognition of the Heinlein name and legacy. This growth in new fans will only increase with the growth of new Heinlein content such as comics, movies, and TV shows to support the foundation of the existing literary works.
THS: Have their been any surprises during the process of bringing HSSWT to the visual medium? Any parts of the story which have seemed just made to be turned into graphic art?
Eric: Absolutely, with Heinlein's inventive stories and visionary imagination, his literary works were destined for adaptation into today's media formats and channels. We already see many shows, books, and movies that "borrow" from the Master's themes, storylines, and ideas. We are just making sure credit is given where it is due, with our adaptations and hopefully to also provide some education and joy along the way.
We wish Eric and the HSSWT team the best of luck in meeting all their Kickstarter goals, and can't wait to see the end result! Go here to help out the project and enjoy the myriad rewards of Kickstarting Have Space Suit – Will Travel.