By Keith Kato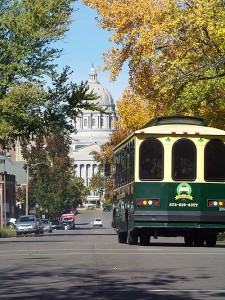 As you all know, The Heinlein Society is procuring the Robert A. Heinlein exhibit for the Missouri House of Representatives' Hall of Famous Missourians. A link to the finished bust photos and time-lapse movie of the completed clay sculpture is here. It is the Society's plan to coordinate with the 2016 Worldcon, MidAmeriCon II in Kansas City (www.MidAmeriCon2.org ) to unveil the Heinlein Exhibit at their Worldcon.
For those of you who either attended our recent September 12 Annual Meeting or have downloaded the briefing package, on page 36 you see the final bullet referring to a post-MidAmeriCon II "relaxacon" which we are tentatively calling "RAHcon" for "Robert Anson Heinlein convention" but also because we pronounce it "Rock On." At the moment, this effort is thought to be simply a small group of Heinleiners travelling to Jefferson City, the Missouri capitol, to attend the Induction Ceremony for the Heinlein Exhibit in the Hall of Famous Missourians.
The purpose of this article is to see if there is sufficient interest among our members, and others who will attend MidAmeriCon II, to warrant further inquiries into some tour-like cost packages for transportation, lodging, and sight-seeing. If interested, please send me a note.
DATES
MidAmeriCon II will be held in Kansas City, Missouri, beginning Wednesday August 17 through Sunday August 21, 2016. Convention programming ends with the Closing Ceremonies, typically 3:00 PM Sunday, when we must break down and pack all Society-related exhibits.
Sunday evening there will be several informal "Dead Dog" parties, so-named because attendees are paying the price of having too much fun after five days of Worldcon.
Of special note for Sunday is that Spencer Schubert will take custody of the Heinlein Exhibit (his studio is about ½ mile from the Kansas City Convention Center), and plans to drive it personally to Jefferson City for the Induction Ceremony.
Monday August 22, 2016, is essentially reserved for transporting people and things to Jefferson City. Depending on the size of our group, we are looking at group transportation from Kansas City to Jefferson City, transportation to hotels and for touring, favorable hotel rates, and group meals for lunch and/or dinner.
Tuesday August 23, 2016, is the nominal date for the Induction Ceremony, hopefully in the mid- to late-morning. The Ceremony will actually be in the House chambers, not the Hall of Famous Missourians. Our party will receive individual "Official Invitations" to the Ceremony from the Speaker of the House, but will likely be seated in the gallery and not on the chamber floor. We are told it is customary for the sponsoring agency (that's us) to host a Reception afterwards, with light refreshments.
Once the Reception is over, our travelling party will disband for their respective return trips home.
TRAVEL FROM KANSAS CITY TO JEFFERSON CITY, AND BACK
The driving distance from KC to JC is nominally 147-157 miles depending on the route taken, with a 2 hour, 30 minute driving time.
At the moment there are two Amtrak trains (www.amtrak.com ) from Kansas City (KCI) to Jefferson City (JEF): the 314 Missouri River Runner departs 8:15 AM and arrives 11:18 AM (3 hours, 3 minutes); the 316 Missouri River Runner departs 4:00 PM and arrives 7:03 PM (also 3 hours, 3 minutes). $25 for a reserved coach seat, but no checked baggage. However, two 50 lb carry-on bags, and two personal bags, are allowed (and stored overhead).
Two return trips from JC to KC: the 311 Missouri River Runner departs 11:36 AM and arrives 2:55 PM (3 hours, 19 minutes); the 313 Missouri River Runner departs 6:22 PM and arrives 9:40 PM (3 hours, 18 minutes). Again $25 for a reserved coach seat, same no checked baggage but carry-on bags policy.
The Jefferson City Memorial Airport does not have commercial flights. The nearest airport to Jefferson City is the regional Columbia Airport (COU) which is serviced only by American Airlines. There seem to be only four arriving flights each day (two from Dallas-Fort Worth, two from Chicago O'Hare), and four departing flights each day (same two destinations). The airport is 21 miles north of Jefferson City.
LODGING IN JC
A representative of the Jefferson City Convention and Visitors Bureau solicited on our behalf a request for quotation; four hotels in Jefferson City responded with room rates in the attached table. Links with further information about the hotels is at http://www.visitjeffersoncity.com/stay.php
Hotel
Rates (Tax not included)
Value Added
RAHcon meeting room




Baymont Inn & Suites

$72.00 Double

$72.00 King

Complimentary Continental Breakfast with hot items
Lounge, Outdoor Pool, Fitness Center
Wyatt Room, +$150 rental not including food (catered or provided)




Best Western Plus Capital [sic] Inn
$101.64 Double
$101.64 King
Complimentary Hot Breakfast
Indoor Pool/Spa, Fitness Center, Bowling Center next door
Meeting room, allows catering




Capitol Plaza Hotel
$89.00 Double
Full Service Restaurant/Lounge
Indoor pool/sauna/ whirlpool
Fitness Center, Covered Parking
Meeting room for dinner complimetary




DoubleTree Hotel
$114.00 Double
$124.00 King
Indoor pool, Fitness center, Chocolate chip cookie welcome, Saphire Restaurant & Lounge Meeting room (Capitol View Room) $600 + food charges
Meeting room for dinner complimetary



TRANSPORTATION IN JC
We are told Jefferson City in late August is HOT, in the high-80's/low 90's range. This tells me even a short walk from a hotel to the Capitol building is not advised, and that air-conditioned transportation is desired.
Oddly, despite being the state capitol, Jefferson City seems not to have a large number of taxis. There is something called Trolley Company in JC. They responded with photos of their air conditioned trolleys [2 photos attached] which hold about 25 passengers. They charge $100 per "driving" hour and $50 per "waiting" hour.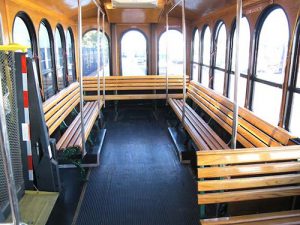 WHAT TO DO IN JC
Jefferson City has a population of about 43,100. Not much to do unless you want to wander around a small town; their brochure has a tour of a local prison.