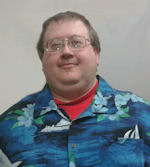 We're sorry to have to convey some very sad news. Scott Hann, our blood drive chair, has passed away. On November 7, Scott stopped breathing as was rushed to the hospital. He was put on life support, but remained unconscious. Efforts to revive him were unsuccessful. With no hope of recovery his family made the painful decision to cease extraordinary medical treatment, and on Saturday, November 23, he was disconnected from life support.
Scott was quite an accomplished person. He served in the army in the 1980s, stationed in Germany, and later worked as a private detective, among other jobs. While pursuing a degree in U.s. History, he published his first novel, "The Red Menace", in 2009, and his second, "Heartland Homicide", earlier this year. But he shone brightest when he was serving others.
Scott became our blood drive chair in January of 2012, succeeding Alan Koslow. Scott also ran the Gen Con blood drive in Indianapolis, IN since 2005. Scott looked outside himself, and saw a need for good people who were willing to help. When the call came, he was ready to step up and do what was needed, as he had during his military service. His hard work and dedication through the years helped to save hundreds of lives, and inspired others to follow in his footsteps. Joe Smiddie-Brush and John Kroeger, who assisted Scott at Gen Con for a number of years, are already planning next year's Gen Con blood drive in his honor.
We are very grateful to Scott for his service in Paying It Forward. As a former blood drive chair, and as Society chairman, I worked with Scott a lot, and though I never got to meet him personally, I considered him a friend, and I will miss him. He will always be remembered.
Mike Sheffield