Balticon 57 May 26-29, 2023
The Society had a wonderful time at 2023's Balticon, held again at the Renaissance Harborplace Hotel. Balticon, run by the Baltimore Science Fiction Society and many voluntee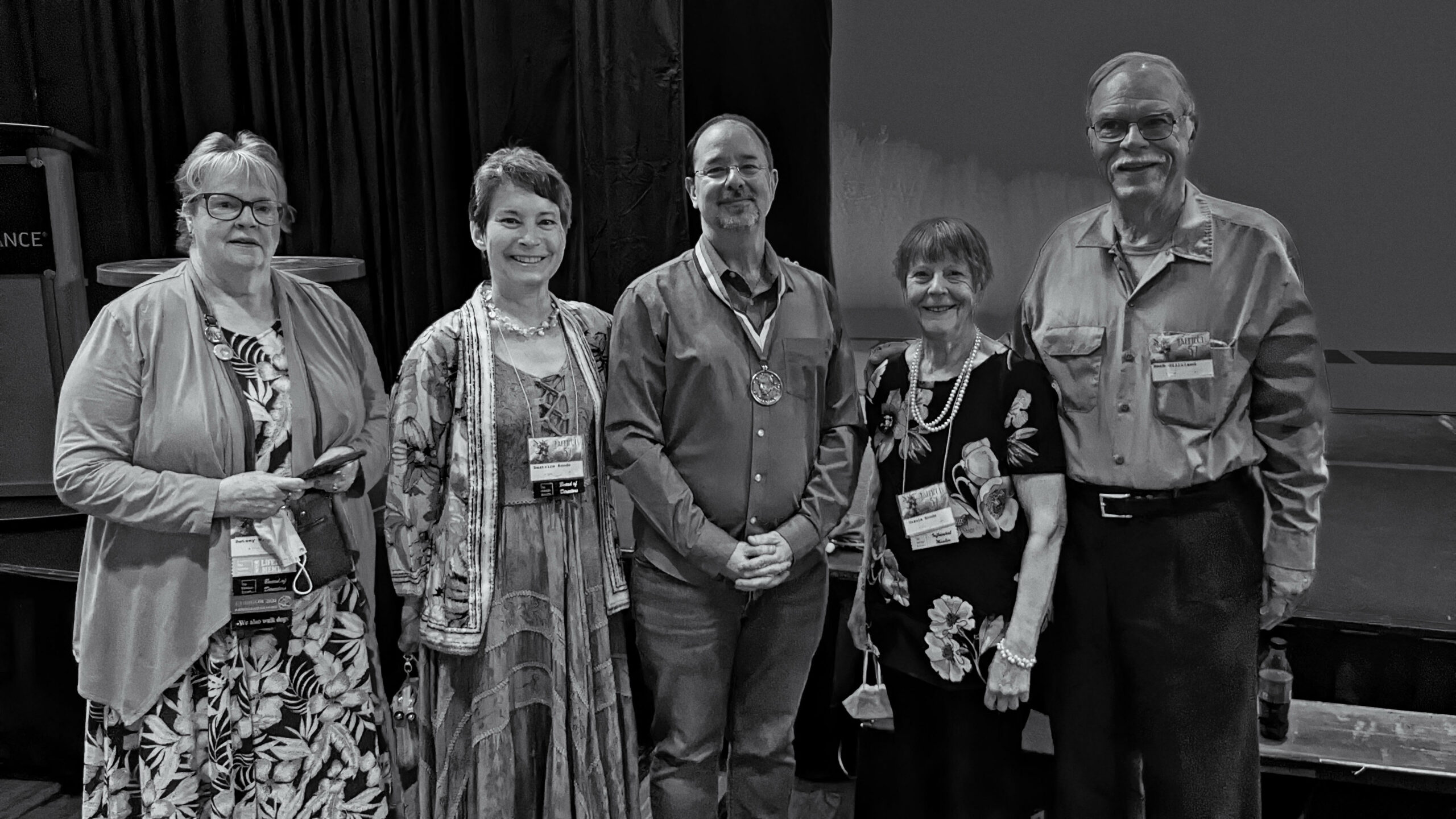 rs, is a very reader/writer/artist-centric convention. The Heinlein Society has maintained a presence at Balticon for almost its entire existence.
Since THS has a "Maryland Mafia" of three directors that live in the state, along with another director and several core volunteers that have been travelling to attend each year, we have a wonderful group of members growing each year.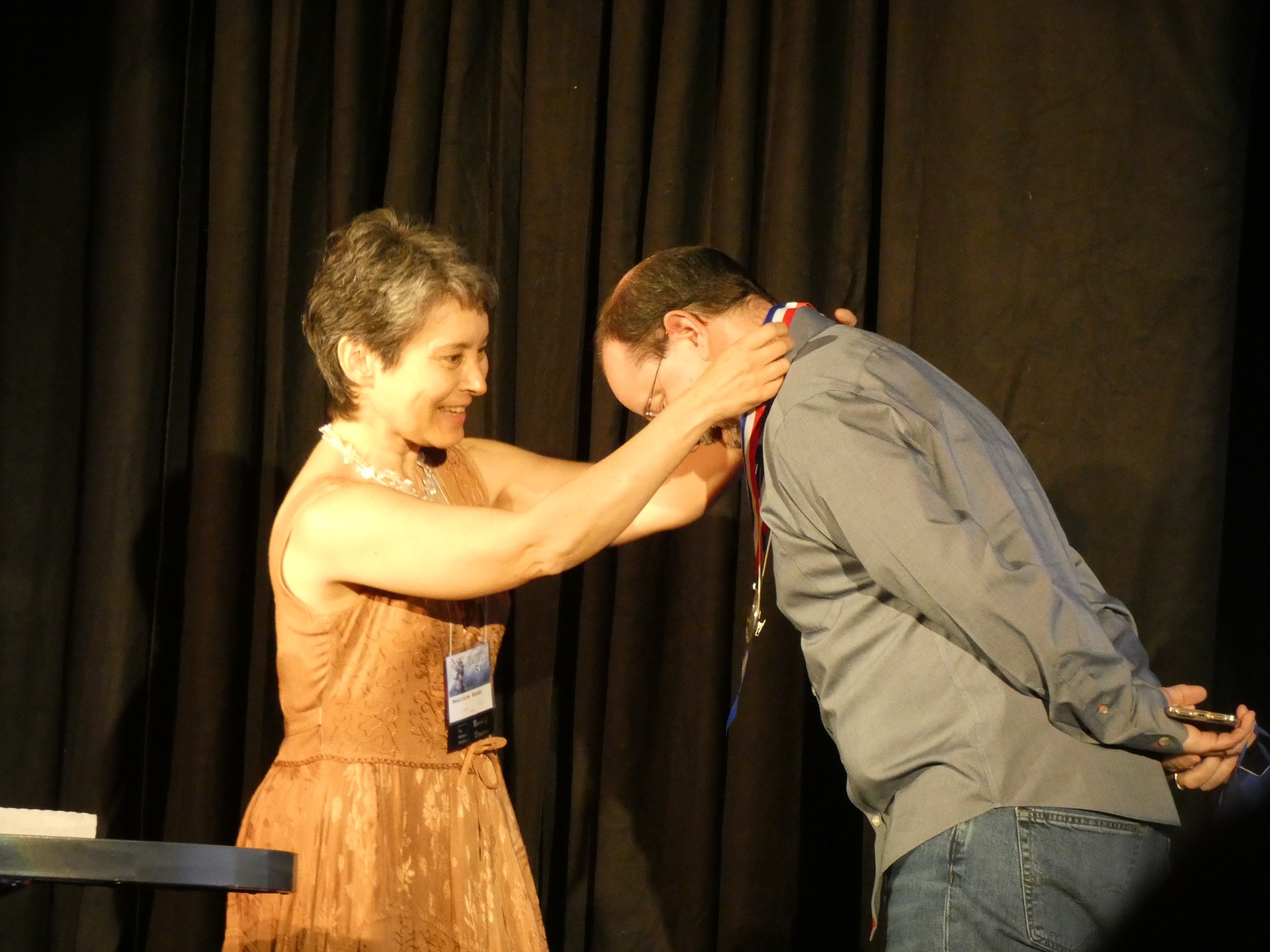 Chief among our activities is honoring the Heinlein Award winner—this year being John Scalzi.
At the opening ceremony on Friday night, Treasurer Beatrice Kondo formally awarded Scalzi with his medallion. The Kondo family have been stalwart supporters of the Heinlein Award and Beatrice is also on the selection board for the award, so as the presenter she is doing triple duty! Scalzi had a wonderful acceptance speech which was a glimpse of his Sunday talk.
Saturday's activities started with a 10:00 am panel on Scalzi's works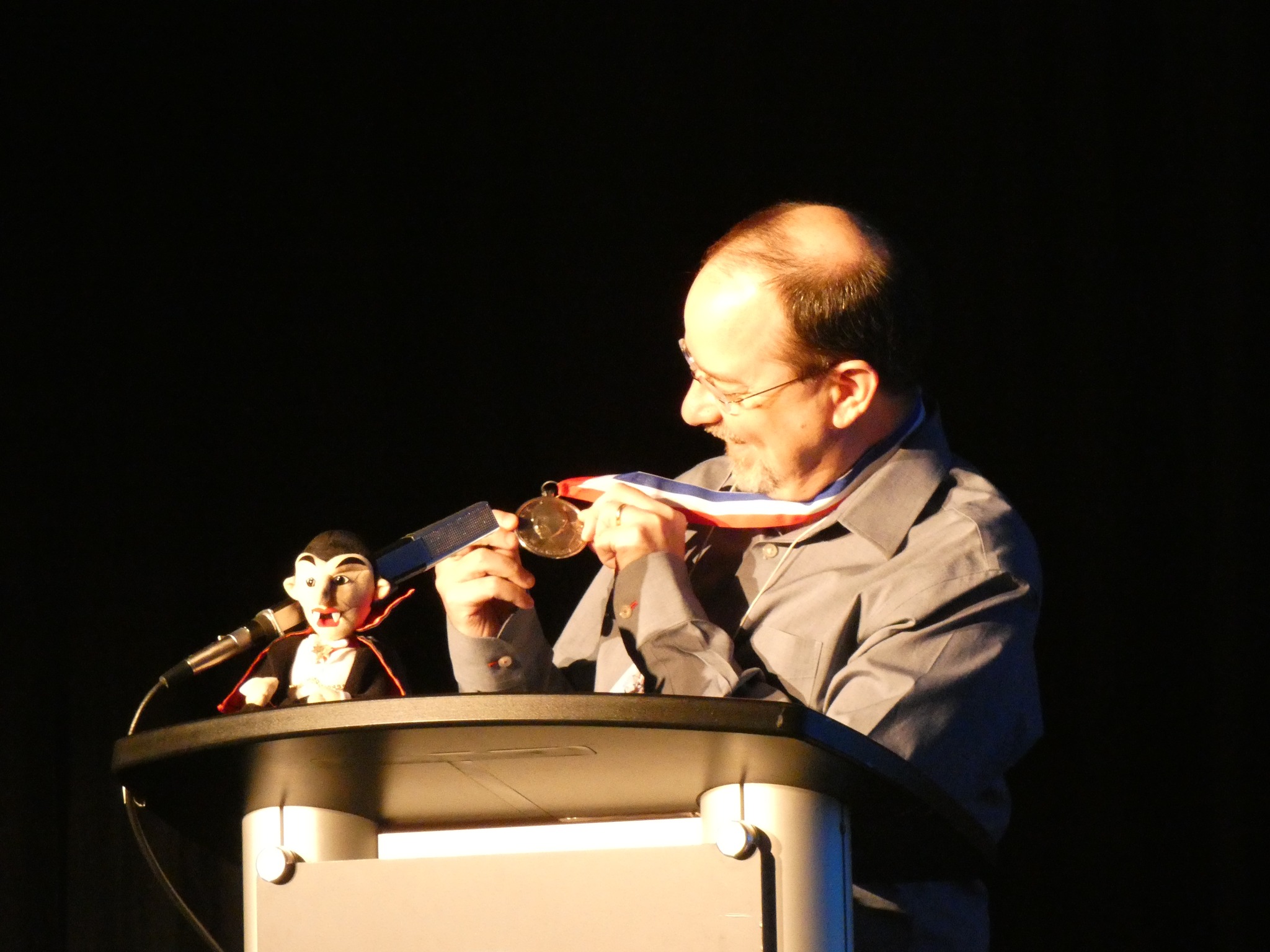 moderated by me but with the audience of about 15 doing the heavy lifting. Throughout the day we had volunteers at our 'fan table' giving out chocolate, THS ribbons, bookmarks, and more of the "Rocketship Lunatic" comic books that were a donation from UC Santa Cruz. It was wonderful to meet some of the members attending who had only been names on a page or social media prior to this.
A personal highlight for me was catching up with the Nebula-nominated author Charles E. Gannon. Chuck is an active member of our Board of Advisors. With the pandemic and two very busy personal lives I hadn't seen Chuck for a long time, and it was great to hear about the upcoming work as well as some sooper-sekret details about what's coming in the Caineverse that he wouldn't tell me until I was sw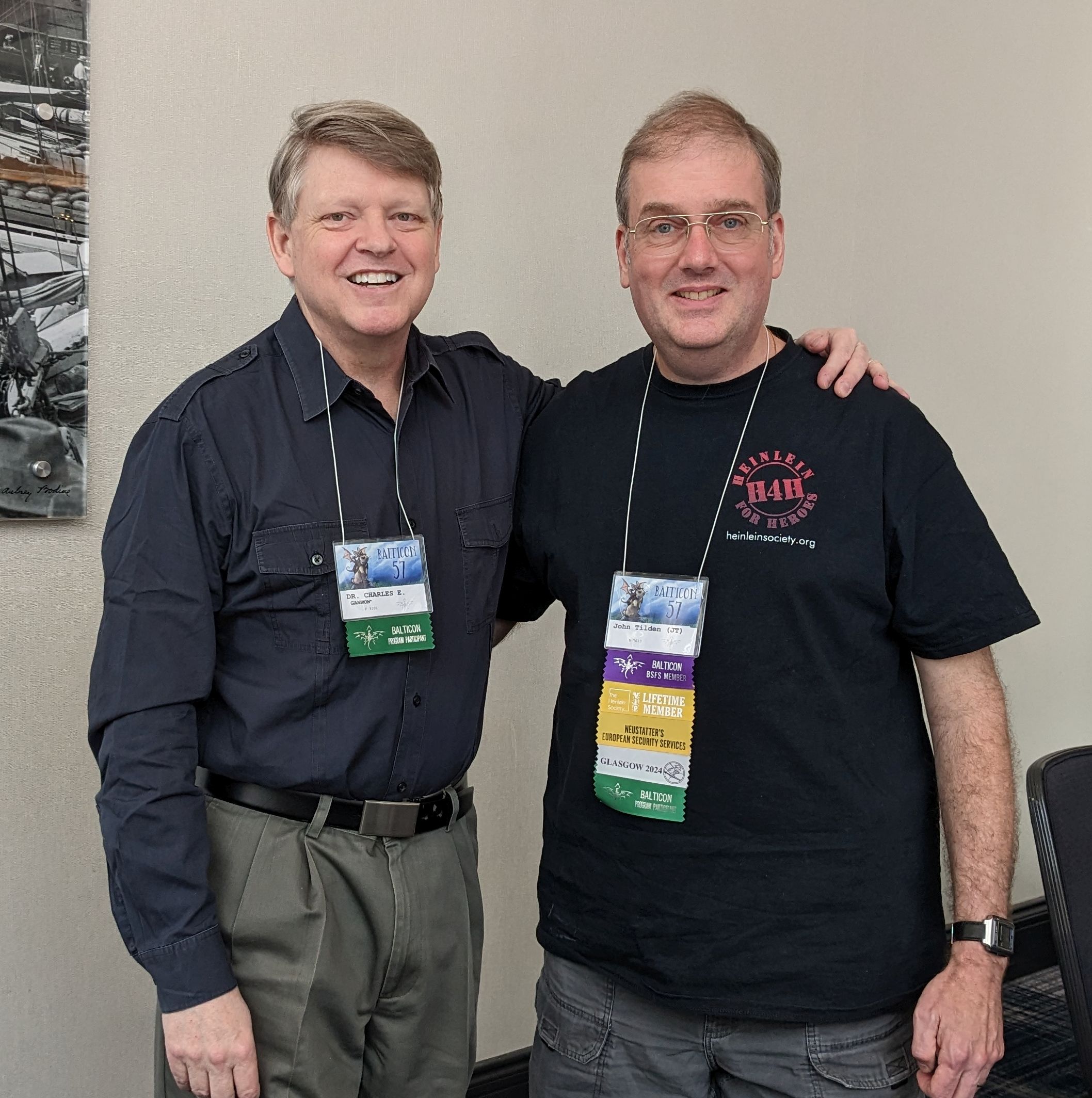 orn to stay quiet.
Saturday evening our Secretary Betsey Wilcox really outdid herself. She organized a private dinner at a nearby restaurant for Society members honoring John & Krissy Scalzi. The food was wonderful, exceeded only by the company! It was one of the finest events I've been to as a THS member, one we hope to keep replicating with future Heinlein Award winners.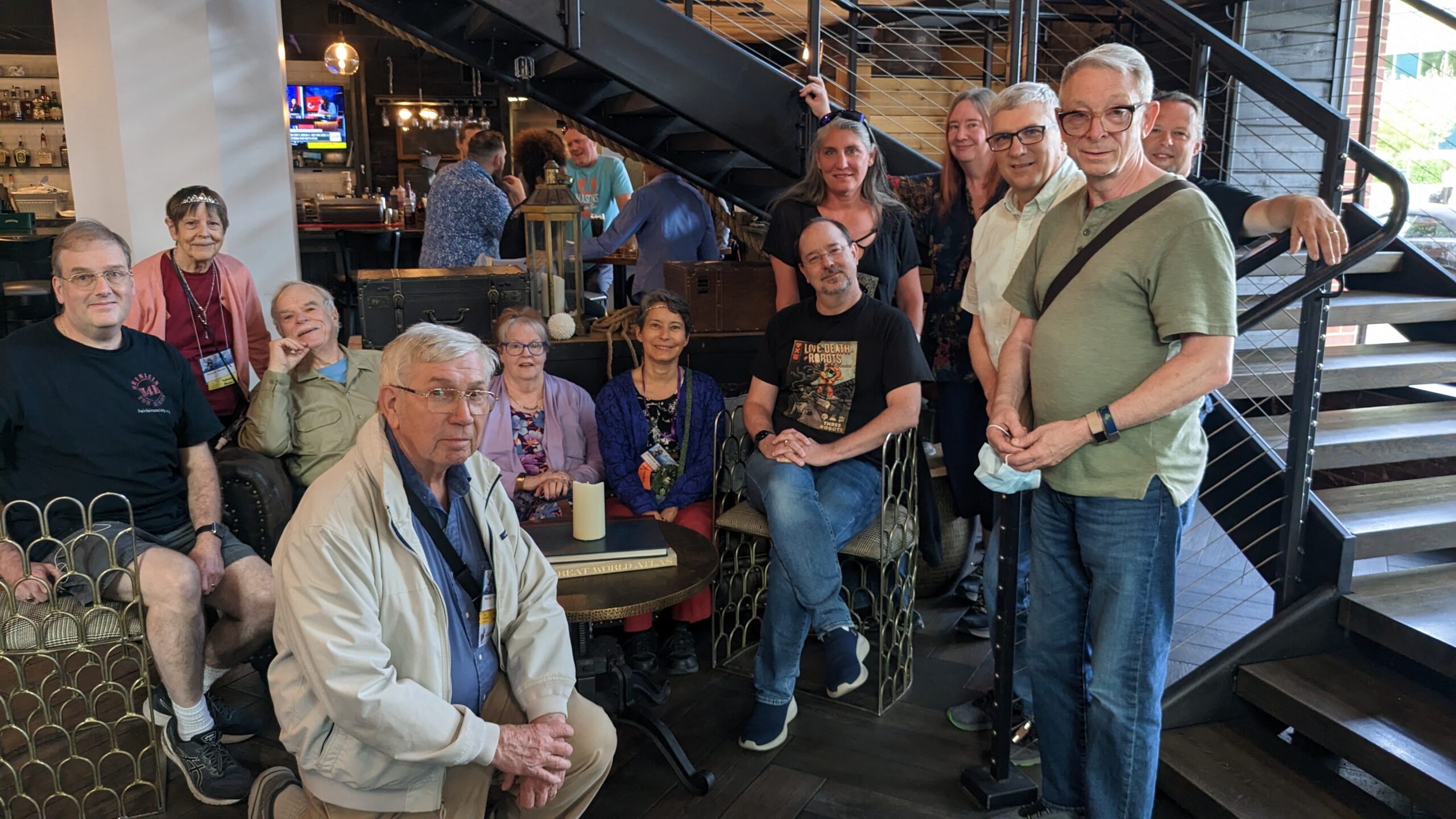 On Sunday, the highlight of the day was a presentation by Scalzi where he talked about the books and style of writing from Heinlein that influenced him growing up and as a young writer starting out. He used books that both Betsey & I had brought along so he had props to wave around. Betsey was a little nervous to see her first-editions next to an open can of his ever-present Coke Zero but no tragedies occurred. I had the honor of introducing John and helped moderate the flow of questions that started about 2/3 of the way through his talk. I was surprised that the questions largely stayed relating to attitudes to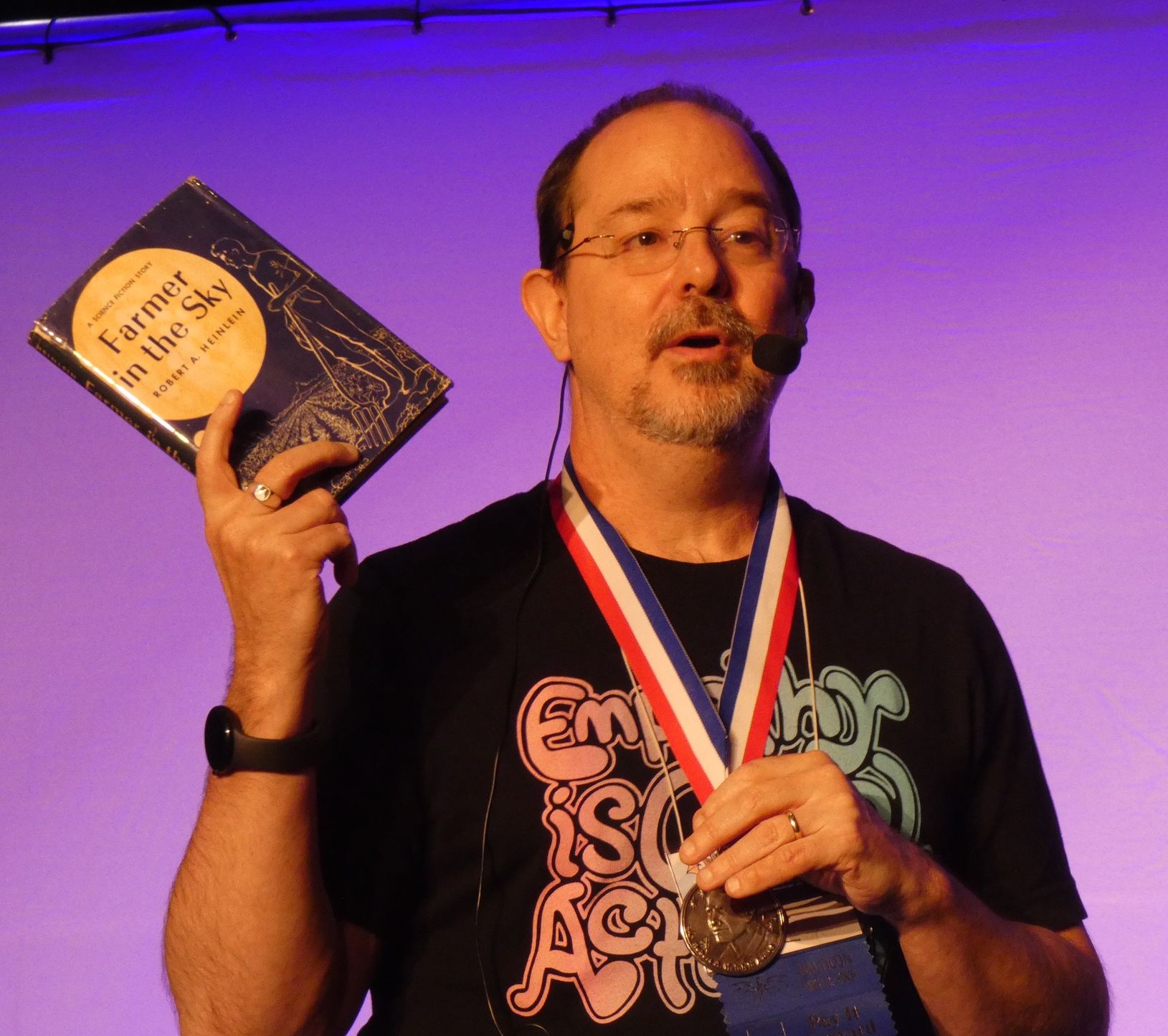 wards Heinlein, as I expected (and he welcomed) any kind of question.
Monday morning saw a reading by Scalzi where he read a chapter of his upcoming book Starter Villain plus some other short pieces. This reading in one of the smaller panel rooms was standing room only!
I know that others went to science panels on space and crop changes due to climate, and I participated in a panel about superheroes surging in media recently, to give you a sense of some of the other non-Scalzi content from the weekend. (He was on other panels as well.) We did not get to have an in-person blood drive this year at the con but did run an appointment sign-up drive that has netted 4 appointments as of posting this report.
Balticon, held every Memorial Day Weekend, has become an annual event for Heinlein fans on the east coast and we hope next year we'll see you there too!
photo credits: President JT & member Neil Ottenstein
Extra Photos: