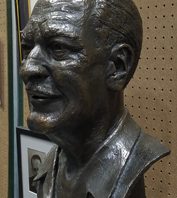 The Board of The Heinlein Society recently agreed to lead efforts to raise funds for a bust (with associated plaque and pedestal) of Robert A. Heinlein to be displayed in the Hall of Famous Missourians maintained at the Missouri capital building by the Missouri state legislature. Heinlein was honored to be included in a public vote in late 2013.
Under Missouri law, funds for the bust, plaque, and pedestal, and any awards ceremony, must be raised by outside groups and not come from state tax funds. THS has agreed to lead the effort to raise these funds, and the Board approved a dedicated fund that can only be spent for these purposes when donations are so directed by the giver, or the funds raised returned to donors if the fund raising goal is not achieved by December 31st, 2016.
The Heinlein bust would join those of other famous Missourians already there, including one of Robert's favorite authors, Mark Twain (Samuel Langhorne Clemens). There are several references and homages to Twain in the Heinlein oeuvre. Aside from the honor of the thing in his native state, we think he'd like that a whole lot.
The Society's Paypal link (see "I want to Pay it Forward" at top right of Home page) now includes a dedicated selection for "Hall of Famous Missourians Bust" with example amounts. A second donate button is free form if you don't see one of the example amounts that matches your generosity and desire to "Pay it Forward!" in memory of Robert A. Heinlein. Checks may also be sent to the Society's mailing address at 3553 Atlantic Avenue, #341, Long Beach, CA 90807-5606. Just indicate "Hall of Famous Missourians" in the memo field of your check.