The Heinlein Society at the 2003 WorldCon
Torcon 3, Toronto, Canada                                                               Annual meeting report
August 28-September 1, 2003                                                         Heinlein Society Panels
Heinlein Dinner Awards
Heinlein Society at the 61st World Science Fiction Convention
Torcon 3, Toronto, Canada
August 28-September 1, 2003

The Heinlein Society had a very enjoyable and successful time at the 2003 World Science Fiction Convention, Torcon 3, held in Toronto, Canada.
Numerous new members joined the Heinlein Society. The first Heinlein Awards were presented, and seven well-attended panels were conducted, including one announcing the upcoming publication of a brand new novel by Robert A. Heinlein, "For Us, the Living," discovered by a Heinlein Society researcher.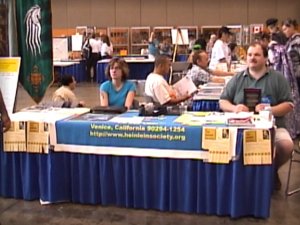 Several members were interviewed by various television crews, including Sam Kramer, who was interviewed by a Rochester, New York station. He gave an excellent interview discussing the Heinlein Society, and Robert Heinlein's works.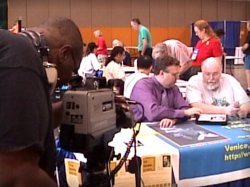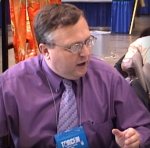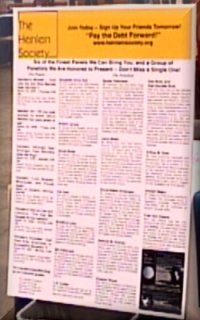 For Us, the Living
Poster announcing Heinlein Society panels