Heinlein Society Events at ConJose Aug-Sept 2002
Photos and Letter Courtesy of Art Dula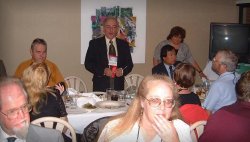 Letter from Art Dula to Virginia Heinlein
Dear Ginny,
We all arrived safely back in Houston at about 1:30am on Tuesday. Here are a few pictures of the Heinlein events in San Jose. Bill and David did a splendid job of organizing the educational programming. On Friday there was a lovely dinner. It was almost too much for the restaurant. We enjoyed each others company and watched Robert's TV interview from the 1969 Apollo XI flight. David explained the goals of the Society and told some of its plans for the future.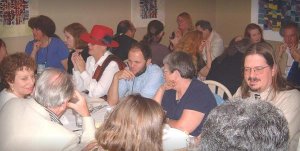 (These are photos of the Heinlein dinner.) There was a blood drive that I heard yielded 80 pints on Saturday. Two of the educational programs "Heinlein 101" and "Stranger in a Strange Land" were presented to a packed room.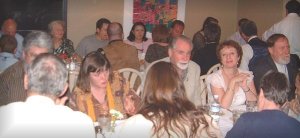 On Monday afternoon the program on "Let's Hang all the Lawyers" was well attended. (I was on that one, so I didn't get any photos.)
The business meeting of the Society went well.
All during the convention the Society operated an information booth for prospective members.
 I really look forward to next year's programs.
Best personal regards,
Art